Primary Belt Cleaner (Scraper)
By keeping track with the latest market development, we introduce high quality Primary Belt Cleaner(Scraper). Our offered cleaner helps to remove bulk material product and also prevent it from falling. This cleaner is manufacturing using the optimum grade raw material and contemporary technology under the guidance of our adroit professionals. In addition to this, the provided Scraper is rigorously checked against various quality parameters by our quality analysts to ensure its quality.
Primary belt Scraper is an economical yet efficient solution for conveyor belt cleaning problems. It is designed for longterm performance to withstand punishing conditions. It is made up of Heavy Duty steel pipe frame to withstand heavy loads and high speeds. The cleaner blades are mounted with single locking pin arrangement which makes installation and maintenance easier. Polyurethane blades suitable for different application and conditions are available. Pre Cleaner incorporates a sturdy polyurethane blade and heavy duty carrier tube minimum cleaning pressure exerted on the belt with maximum cleaning efficiency. The Scrapers design allows ease of installation and replacement of the blade with removal of only one locking pin. A torque storage tensioning device ensures constant blade contact with the belt. Unique design maintains a constant cleaning angle and optimum radial pressure through all stages of blade life.
Secondary Conveyor Belt Cleaner (Scraper)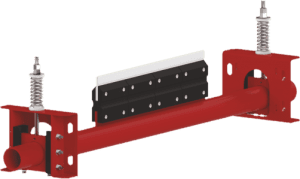 We are engaged in manufacturing and supplying high quality Secondary Conveyor Belt Cleaner(Scraper). The offered cleaner is finely manufactured using the best quality raw material as well cutting edge technology by our experienced professionals at our well-maintained production unit. This Scraper is highly acclaimed in the market due to its varied attributes like sturdy design and unmatched quality. A part from this, our provided cleaner can be availed by our esteemed clients from us at rock bottom prices.
Secondary Scraper removes up to 97% of material clinging to the belt surfaces. They can be used singly or in tandem if necessary and, should be used in conjunction with a Primary scraper for optimum performance. X Multiple blade arrangement allows blades to conform to belt profile, especially when worn. X The angle of cleaning is always a Scraping angle which will not damage the Belt X Robust construction of cleaner assembly resists accidental damage. X It also helps Blades to deflect to accommodate reversing belts. X The Blades deflect when encountering metal belt fasteners, belt repairs or belt damage. X High quality paint finish on all metal parts ensures optimum corrosion protection.
FAQs of conveyer belt cleaner
Hat is a conveyor belt cleaner?
A: A conveyor belt cleaner is a device that is used to remove unwanted material and debris from conveyor belts to maintain its performance and extend its lifespan.
Why is it important to clean conveyor belts?
A:Conveyor belts that are not cleaned regularly can accumulate unwanted materials such as dirt, dust, and debris, which can cause the belt to slip, jam, or even break. This can result in downtime, decreased productivity, and increased maintenance costs.
What are the different types of conveyor belt cleaners?
A: There are several types of conveyor belt cleaners, including primary cleaners, secondary cleaners, and tertiary cleaners. Primary cleaners are used to remove the bulk of the material from the belt, while secondary cleaners are used to remove any remaining material. Tertiary cleaners are used for specialized applications, such as cleaning belts in food processing plants.
How do conveyor belt cleaners work?
A:Conveyor belt cleaners work by using a variety of methods to remove unwanted material from the belt. Some cleaners use a scraping blade to remove material, while others use brushes or high-pressure water jets.
Can conveyor belt cleaners be customized to fit specific needs?
A: Yes, conveyor belt cleaners can be customized to fit specific needs. Different types of cleaners and scraper blades can be selected depending on the type of material being conveyed and the environment in which the conveyor is operating.
How often should conveyor belts be cleaned?
A: The frequency of conveyor belt cleaning depends on several factors, including the type of material being conveyed, the speed of the conveyor, and the environment in which the conveyor is operating. Generally, it is recommended to clean the belt at least once per shift or more frequently if necessary.
Are conveyor belt cleaners easy to install and maintain?
A: Most conveyor belt cleaners are designed to be easy to install and maintain. However, the specific installation and maintenance requirements will depend on the type of cleaner being used and the specific conveyor system. Regular inspection and maintenance of the cleaner will help ensure its continued performance and longevity.
What are the benefits of using a conveyor belt cleaner?
A: Using a conveyor belt cleaner can provide several benefits, including improved productivity, increased uptime, reduced maintenance costs, and improved safety by reducing the risk of accidents and injuries. It can also help to extend the lifespan of the conveyor belt, reducing the need for costly replacements.